Long a hit with red carpet starlets, emerald will get a bit of extra attention in 2013 as Pantone's Color of the Year.
17-5461 is the official ID – speaking of, are Pantone IDs the equivalent of Social Security numbers for colors? When their glory days are behind them, and they're sent off to an old age home for hues we can see Honeysuckle sitting around with a cup of hot cocoa complaining to Turquiose that Pantone payments just haven't kept up with the cost of living, but we digress.
Emeralds, though often admired for their strong, vibrant green cuts, actually have a beautiful range that includes greens tinged with just a hint of blue (our favorite, and an ideal shade to complement the turquoise color of the year items still in your closet or around your home) and even pale, glassy shades that wouldn't be recognized as emeralds at first glance.
Pantone seems to have settled on the slightly bluish green shade to represent the spectrum. For design geeks, we present the RGB, CMYK and HTML Hex codes of Pantone Emerald, between a few complimentary and contrasting spectrums.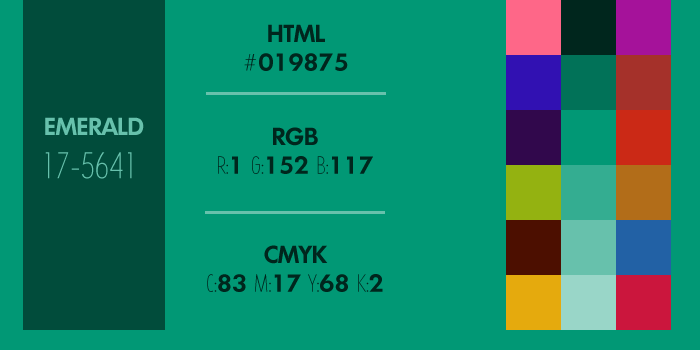 For those who are just reminded of their love for the shade and want ways to incorporate it, try these 9 emerald style and home pieces.